Divine Harmony Spiritual Church
Divine Harmony Spiritual Church is currently located in Knoxville, Tennessee and is maintained by the Reverend Jon Saint Germain.
Originally founded by Ms. Adele Clemens, we're an affiliate of the Missionary Independent Spiritual Church (The Small Church Ministry) whose main office is in Forestville, California. Divine Harmony Spiritual Church is indeed a "Small Church," with a floor space of ten by twelve feet!
Services are held daily, with a broadcast service each Tuesday Night via Blogtalk Radio.
Tune in to The Crystal Silence League Hour with the Reverend Jon Saint Germain, the Voice of the Crystal Silence League.
Rev. Saint Germain is available by appointment for private readings, consultation, coaching, healing, and blessings.
OUR FOUNDER
Rev. Adele Clemens, who maintained she was the Grand-Niece of Mark Twain, founded Divine Harmony Spiritual Church in Harlem, New York in the mid 1930s. She was an associate of the controversial Spiritualist minister Reverend Major J. Divine of Harlem Divine Revelation Spiritualist Church, about whom she remarked, "Brother Devine had something, I guess, but he didn't know how to handle prosperity."
Rev. Clemens moved to Wilkes-Barre, PA in 1947 and continued her spiritual work there, giving lectures and holding Spiritualist Services at 33 Market Street. She was also an artist and painter, and her brother John Clemens owned a framing and art gallery in Wilkes-Barre. Ms. Clemens exhibited her collection of antique frames and art in her studio in Wilkes-Barre, where she also held private consultations.
Rev. Clemens was the author of several books and pamplets, among them a book on church candle services she co-authored with Mikhael Strabo, and a one-sheet entitled Following in His Footsteps.
THE CHURCH TODAY
Pastor Rev. Jon Saint Germain is an ordained minister, spiritual counselor, healer and rootworker who is a member in good standing with the Association of Independent Readers and Rootworkers and is the Voice of the Crystal Silence League and editor of its newsletter.
Rev. Saint Germain was the Official Palm Reader for the 2008 Inaguaral Ball for President Obama!
Rev. Saint Germain is the author of several books. Among these are the Llewellen publications Karmic Palmistry, Runic Palmistry, and Palmistry for Lovers; and Crystal Magic, published by Independent Missionary Spiritual Church.
He is available for personal consultations and speaking engagements by appointment.
The Tradition of the Spiritual Church
The spiritual church movement is an informal name for a group of loosely allied and also independent Spiritualist churches and Spiritualist denominations that have in common the fact that they have been historically based in the African American community.
Many of them owe their origin to the evangelical work of Leafy Anderson, a Black religious leader of the early 20th century who was born in Wisconsin and in 1913 founded the Eternal Life Christian Spiritualist Association. In 1920 she relocated to New Orleans, Louisiana, where she demonstrated mediumship by bringing messages from her spirit guide Black Hawk, a historical war leader of the Native American Sauk tribe, who had lived near where she was born.
Although the churches founded by Anderson are often associated with New Orleans, the spiritual church movement has always been national in scope. It spread quickly throughout America during the 1920s, and one impetus for its diffusion was the fact that in 1922, the National Spiritualist Association of Churches expelled or made unwelcome all of its Black members.This led to the formation of a national group called the Colored Spiritualist Association of Churches, and within a few years there were Black Spiritualist churches in Chicago, Detroit, Philadelphia, and many other cities. During the decade preceding World War II, the Spiritual churches of New York City were well documented in print and film.
At the present time, the spiritual church movement encompasses primarily churches which are influenced by Protestant Christian worship styles, especially Baptist and Pentecostal praise music, as well as churches that contain a great deal of Catholic imagery, including the veneration of saints.
---
The Missionary Independent Spiritual Church
THE SMALLEST CHURCH IN THE WORLD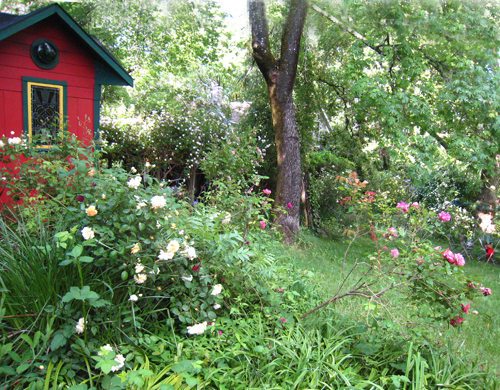 With an exterior dimension of 36 square feet Missionary Independent Spiritual Church in a close race with a couple of other churches for the title of "World's Smallest Church." We may indeed be the church with the smallest amount of floor space -- and we are certainly the ONLY tiny church of those in contention where services are held DAILY -- that is, we are a fully functional CHURCH and not a mere "chapel."
One question we are occasionally asked is, "If your building is really a church, why isn't it painted white and why doesn't it have a steeple?"
The answer lies in the history of the vernacular architectural styles of early California, and also rests upon our service to an interfaith religious community that embraces Christian, Jewish, Taoist, Animist, Hindu, Wiccan, African Traditional, African Diasporic, Druidic, Buddhist, Pagan, and other religious architecture traditions.
Missionary Independent is painted red and green throughout, with yellow and gold highlights, in homage to the Chinese Joss House architecture of early California. Joss Houses are small Chinese temples, many of them dating back to the Gold Rush era, a time when Cantonese immigrants flocked to the Western United States. They were built in the local wood-frame Victorian vernacular style sometimes called "carpenter's gothic," but were brightly painted with traditional Chinese temple colours.
The interior of the Missionary Independent Church contains a central altar, two seats, and a pull-out table for the use of spiritual readers.
The main altar is constructed on three levels, one above the other, each containing statuary of deities -- gods and goddesses whom people of varied cultures have worshipped as manifestations of the Divine.
Enter the tiny building by means of its gilded double-doors and you will see that it contains two gilded windows that open, a large fixed stained glass window behind the main altars, and four circular stained-grass vents.
There are four hand-made wrought-iron candle altars in the corners, with room to burn a total of 64 novena or vigil lights at one time. Candle services are conducted daily.
A pull-out oak table stored under the altar and a pair of matching antique oak chairs provide seating for two when spiritual readings are conducted. Readings in the church may utilize age-old methods such as mediumship, clairvoyance, palmistry, crystal ball, tea-leaves, geomancy, Chinese fortune sticks, dice, astrology, I Ching, and pendulum divination, according to the gifts of the reader present at the time.
In addition, two outdoor chapel shrines flanking the entrance contain additional religious statuary from various cultures, overflow candle racks, and a large Indonesian gong that is banged to call people to worship service each morning.